[진동가속도] AP20** 계열 (with current output)
페이지 정보
작성자
최고관리자
댓글
0건
조회
113회
작성일

19-07-07 17:12
본문
Purpose
표준 전류 출력 (4–20mA)으로 진단 시스템에서 진동 가속도 측정
Features
Built-in electronic amplifier (normalizing transducer) converts a signal proportional to vibration acceleration to a standard current signal 4 … 20 mA.
Electric insulation of piezoelement and built-in electronic transducer from the body eliminates the influence of grounding loop currents on measurement results.
Robust design, waterproof casing and non-detachable armored cable.
Stable characteristics and reliable operation.
Explosion-proof version 1ExibIICT4 (optional)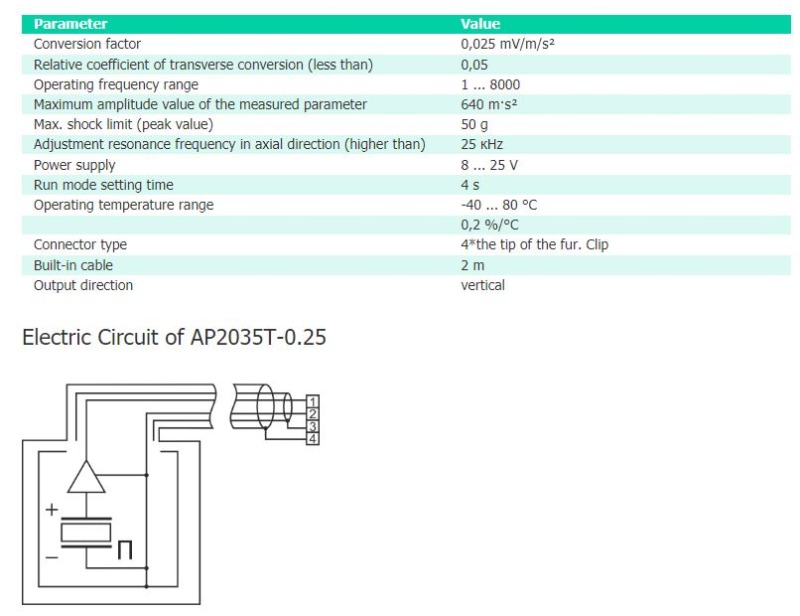 변환 계수 : 0.05mV / ms-2
가로 변환의 상대 계수 : 5 % 미만
측정 된 가속도 진폭의 최대 값 : 100 000 m / s2
작동 온도 범위 : -40 ... +125 ° С
주파수 범위 : 0.5 ~ 20 000 Hz
Optional accessories:
calibrators AT01m, AT02;

measuring amplifiers AP5110, AP5200;

matching devices AG01, AG02;

charge and voltage amplifiers AP5030, AP5210, AP5220, AP5230, AP5240B1, AP5240B1T,

AP5240A1B1, AP5250;

power unit AS01, AS07;

cables АК15-ХХ, АК01, АК02, АК04, АК08, АК10;

magnet mounting bases AM03-02, AM05-02.